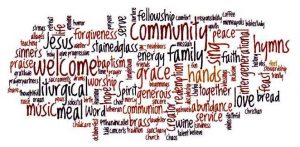 VISION:      A community of believers who through expressing the Good News of Jesus Christ, in word and deed, will grow disciples of Jesus Christ, which will transform people's lives, the community of St Thomas and the world.
MISSION:    As disciples we are called to:
o   Gather to praise God, to listen to Him and respond.
o   Disciple each other in faith and obedience to Christ.
o   Foster intimate transparent relationships where we love and care for one another (unconditionally).
o   Commit to serve and tell others about Jesus.
o   We pursue Gods justice and peace in every area of life. (Is this a by-product of making disciples?)
PURPOSE:     We will love God and people and reach out to our community and the world in obedience to the Great Commandment and Great Commission.
OUR PURPOSE LEADS TO OUR PRIORITIES
THE GREAT COMMANDMENT
Worship – Love the Lord with all your heart
Service – Love your neighbor as yourself.
THE GREAT COMMISSION
Outreach – Go and make disciples
Relationship – Baptize them (fellowship)
Growth – Teaching them to obey (discipleship)
OUR PRIORITIES
GROWTH:  We will challenge one another to mature as followers of Jesus Christ who will lay down their lives in service to their family, community and world.
RELATIONSHIP:  We will devote ourselves to each other's well-being gathering in small groups and for Sunday Worship serving one another through a generous use of our time, resources and spiritual gifts.
OUTREACH:  We will aim to be witnesses for God in every area of our lives. We will actively share the Good news of Jesus Christ with others and invite them into our community of believers.
WORSHIP:  In our regular gatherings we will seek to encounter God through His word and Spirit as we prayerfully give our whole life as an offering to him.
SERVICE:  We will display the love of Christ through compassionate service both locally and globally.
PRAYER:  We will strive to do everything in a spirit of dependence on God.  Prayer should sustain our personal lives and homes and all the groups and teams in the church.