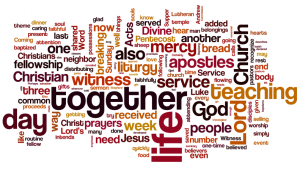 SUNDAY MORNINGS
Seedlings
Provided during morning worship services for infants and toddlers. Contact: Michelle R.
Grow Zone
Meets during the morning worship service. Children are dismissed just before the sermon. Kids aged four through grade five.
---
Coffee Break
Women of all ages, all walks meet every Tuesday at 9:30 a.m. and 7:00 p.m. for lattes, life and learning. Sessions include; parenting series, personal growth DVD series, small group discussion, in-depth bible study. Childcare and children's programs are available from 9:30 – 11:00 a.m. Contact Janny Van O. Read more….
Fellowship Youth
Junior High is for those students that are in grade 6-8 and meet on Tuesday nights from 6:30PM-8:30PM. Sr. High is for students in grades 9-12 on Monday night from 7:00PM-9:00PM.
Fellowship Youth exists to provide fun, faith focused, fellowship infused programming with the goal of presenting every teen mature in Christ (Col. 1:28). It is our goal that teens KNOW, LOVE, SERVE, and SHARE Christ.
Contact Pastor Jon for more information at jon@fellowship-church.ca
Grief Support group
Real help for deep hurt. Grief share is a special seminar and support group for people who are grieving the death of someone close to them. Call Janny 519-637-0283 for more info. Read more….
Music Ministry
The Praise Team meets Thursday nights at 7:00 p.m. to prepare for Sunday worship. Contact: Stephen F. Youth praise team: contact Zach V.
Fellowship Church strives to provide a safe environment for people of all ages. To that end, we have implemented a Safe Church Policy. For more information, please contact a member of the Safe Church Team or Staff member through the Contact Us page.